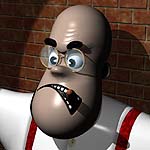 You have entered the HeadQuarters of Voice and are technically committing an act of trespass. Any information found here pertaining to the above named corporation may be highly sensitive in nature and should be treated with the utmost confidentiality.
In accordance with the NETROPOLIS code of business practice, therefore, you can and should use such information in the furtherance of your own interests at the expense of others.
Company:
Voice
Boss:
A Loss
Richlist Position:
6661
Current city:
Unlocated
Holdings:
£70,756,236
Percent map owned:
0.00%
Places won:
The Netropolis Heights
none
The United Kingdom
Skegness - once
Woking - once
Guildford - once
The United States
Beaver Lick - once
Roswell - 3 times
Australia
Geelong - once
Townsville - twice
Canada
Dawsons Creek - once
Toad River - once
South America
none
Europe
none
Company awards:



Company manifesto:
Laryngitis is an inflammation of the larynx. It causes hoarse voice or temporary complete loss of the voice because of irritation to the vocal folds (vocal cords). Dysphonia is the medical term for a vocal disorder, of which laryngitis is one cause.
Laryngitis is categorised as acute if it lasts less than three weeks. Otherwise it is categorised as chronic, and may last over three weeks. The chronic form occurs mostly in middle age and is much more common in men than women. It is mainly caused by excessive smoking.
Boss Homepage:
www.netroworld.com