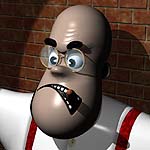 You have entered the HeadQuarters of Orgy and are technically committing an act of trespass. Any information found here pertaining to the above named corporation may be highly sensitive in nature and should be treated with the utmost confidentiality.
In accordance with the NETROPOLIS code of business practice, therefore, you can and should use such information in the furtherance of your own interests at the expense of others.
Company:
Orgy
Boss:
Amazing Sounds
Richlist Position:
89
Current city:
Sydney
Offshore Holdings:
£5,010,781,130
Places won:
The Netropolis Heights
Camelot - once
Olympus - once
Valhalla - once
The United Kingdom
Dundee - once
Kirkwall - once
Cork - twice
Guildford - once
Londonderry - twice
Bristol - twice
The United States
none
Australia
AliceSprings - once
Canada
Dawsons Creek - once
FortGeorge - once
Happy Valley Goose Bay - once
Halifax - once
Quebec - once
Saskatoon - once
Montreal - once
Ottawa - 3 times
Toronto - once
Vancouver - once
South America
Bogota - once
Buenos Aires - once
Caracus - once
La Paz - twice
Lima - once
Montevideo - twice
Quito - once
Rio de Janeiro - once
Rio Grande - once
Salvador - once
Santiago - once
Sao Paulo - once
Europe
Berlin - twice
Granada - once
Istanbul - twice
Paris - once
Warsaw - once
Company awards:





Company manifesto:
I want to see you smile again
Like diamonds in the dust
The amazing sound of the killing hordes
The day the banks collapse on us
Cease this endless chattering
Like everything is fine
When sorry is not good enough
Sit in the back while no-one drives
So glad, so glad you're mine....
Boss Homepage:
http://www.radiohead.com