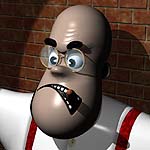 You have entered the HeadQuarters of Hamelin and are technically committing an act of trespass. Any information found here pertaining to the above named corporation may be highly sensitive in nature and should be treated with the utmost confidentiality.
In accordance with the NETROPOLIS code of business practice, therefore, you can and should use such information in the furtherance of your own interests at the expense of others.
Company:
Hamelin
Boss:
The Pied Piper
Richlist Position:
4845
Current city:
Unlocated
Holdings:
£123,102,669
Percent map owned:
0.00%
Places won:
The Netropolis Heights
none
The United Kingdom
Kirkwall - once
Exeter - once
Londonderry - once
Plymouth - twice
The United States
Newark - once
Australia
KangarooIsland - once
Townsville - once
Canada
Medecine Hat - twice
South America
La Paz - once
Rio Grande - once
Europe
none
Company awards:



Company manifesto:
The Pied Piper of Hamelin (German: Rattenfnger von Hameln, the Rat-Catcher of Hamelin) is the subject of a legend concerning the departure or death of a great number of children from the town of Hamelin (Hameln), Lower Saxony, Germany, in the Middle Ages. The earliest references describe a piper, dressed in multicolored clothing, leading the children away from the town never to return. In the 16th century the story was expanded into a full narrative, in which the piper is a rat-catcher hired by the town to lure rats away with his magic pipe. When the citizenry refuses to pay for this service, he retaliates by turning his power that he put in his instrument on their children, leading them away as he had the rats. This version of the story spread as folk lore. This version has also appeared in the writings of, amongst others, Johann Wolfgang von Goethe, the Brothers Grimm and Robert Browning.
The story may reflect a historical event in which Hamelin lost its children. Theories have been proposed suggesting that the Pied Piper is a symbol of the children's death by plague or catastrophe. Other theories liken him to figures like Nicholas of Cologne, who is said to have lured away a great number of children on a disastrous Children's Crusade. The current theory, generally accepted by scholars and historians,1 ties the departure of Hamelin's children to the Ostsiedlung, in which a number of Germans left their homes to colonize Eastern Europe including the area now referred to as Transylvania.
Boss Homepage:
www.netroworld.com