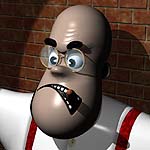 You have entered the HeadQuarters of Barbarians and are technically committing an act of trespass. Any information found here pertaining to the above named corporation may be highly sensitive in nature and should be treated with the utmost confidentiality.
In accordance with the NETROPOLIS code of business practice, therefore, you can and should use such information in the furtherance of your own interests at the expense of others.
Company:
Barbarians
Boss:
A Horde
Richlist Position:
6066
Current city:
Unlocated
Holdings:
£84,036,098
Percent map owned:
0.00%
Places won:
The Netropolis Heights
none
The United Kingdom
Bantry - once
Skegness - once
Woking - once
Cork - once
Norwich - once
The United States
Beaver Lick - once
Roswell - twice
Australia
Townsville - once
Canada
Dawsons Creek - twice
Quebec - once
South America
none
Europe
none
Company awards:



Company manifesto:
The term "barbarian" refers to a person who is perceived to be uncivilized. The word is often used either in a general reference to member of a nation or ethnos, typically a tribal society as seen by an urban civilization either viewed as inferior, or admired as a noble savage. In idiomatic or figurative usage, a "barbarian" may also be an individual reference to a brutal, cruel, warlike, insensitive person.1
The term originates from the Greek word (barbaros). Hence the Greek idiom " " (pas m Helln barbaros) which literally means "whoever is not Greek is a barbarian". In ancient times, Greeks used it mostly for people of different cultures, but there are examples where one Greek city or state would use the word to attack another (e.g. haughty Athenians calling the Boeotians barbarian);2 in the early modern period and sometimes later, Greeks used it for the Turks, in a clearly pejorative way.34 Comparable notions are found in non-European civilizations. In the Roman Empire, Romans used the word "barbarian" for many people, such as the Berbers, Germanics, Celts, Carthaginians, Iberians, Thracians and Persians.
Boss Homepage:
www.netroworld.com