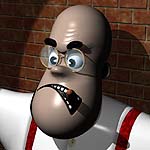 Report abuse
You have entered the HeadQuarters of Pale Rider of Death and are technically committing an act of trespass. Any information found here pertaining to the above named corporation may be highly sensitive in nature and should be treated with the utmost confidentiality.
In accordance with the NETROPOLIS code of business practice, therefore, you can and should use such information in the furtherance of your own interests at the expense of others.
Boss:
Four Horsemen
Company:
Pale Rider of Death
Richlist Position:
2127
Current city:
Moscow
Offshore Holdings:
£597,805,779
Places won:
The Netropolis Heights
none
The United Kingdom
Skegness - once
Plymouth - once
London - 3 times
The United States
none
Australia
Cairns - once
Hobart - once
Melbourne - once
Canada
Yellow Knife - once
South America
none
Europe
Geneva - once
Company awards:




Company manifesto:
Revelation 6:7-8 "When the Lamb opened the fourth seal, I heard the voice of the fourth living creature say, "Come and see!" I looked and there before me was a pale horse! Its rider was named Death, and Hades was following close behind him. They were given power over a fourth of the earth to kill by sword, famine, and plague, and by the wild beasts of the earth."
Boss Homepage:
www.netroworld.com