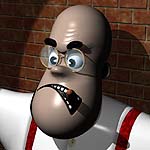 You have entered the HeadQuarters of D12 and are technically committing an act of trespass. Any information found here pertaining to the above named corporation may be highly sensitive in nature and should be treated with the utmost confidentiality.
In accordance with the NETROPOLIS code of business practice, therefore, you can and should use such information in the furtherance of your own interests at the expense of others.
Company:
D12
Boss:
Slim Shady
Richlist Position:
4323
Current city:
Berlin
Offshore Holdings:
£165,416,128
Places won:
The Netropolis Heights
none
The United Kingdom
none
The United States
Roswell - once
Australia
Adelaide - once
Canada
Edmonton - once
Halifax - once
South America
none
Europe
none
Company awards:



Company manifesto:
So I get off stage right and drop the mic
Walk up to the hot chicks and I'm all like
"Sup ladies, my name's Slim Shady.
I'm the lead singer in D12 baby"
They're all like "Oh my God it's him"
"Becky oh my fuckin' God it's Eminem"
"I swear to fuckin' God dude you fuckin' rock"
"Please Marshall please let me suck your cock"
And by now the rest of the fellas get jealous
Especially when I drop the beat and do my acapellas
All the chicks start yellin', all the hot babes
Throw their bras and their shirt and their panties on stage
So like every single night they pick a fight with me
But when we fight it's kinda like sibling rivalry
Cuz they're back on stage the next night with me
Dude I just think you're tryna steal the light from me
Yesterday Kuniva tried to pull a knife on me
Cause I told him Jessica Alba's my wife to be
This rock star shit, it's the life for me
And all the other guys just despise me because
Boss Homepage:
www.netroworld.com