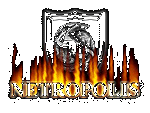 Welcome to Netropolis help
Netropolis help is divided into several sections, which makes easier to locate the problem you may be having. For your convenience all help topics are listed below.
If you continue having problems with Netropolis or you have found a bug please submit a ticket at the
Ticket Page
or you can email the
Game Producer
or ask your fellow players via the in game chat box.
Please note that this is an old help page which is awaiting redesign and updated content.
Help topics
Getting started
How do I start playing Netropolis?
General help
The Game Menu
Toggling Events on and off.
Basic Game Functions
Building/Changing/Demolising a building.
Adding security to a building.
Viewing a buildings condition.
Selling buildings.
Zooming in and out of your city.
Level requirements
HQ operations
Your HQ
Highlighting buildings.
Tracking events.
Viewing the stats.
Viewing your Police record.
Viewing your profile.
Commiting suicide.
Viewing the "Netro Times".
Advanced help
Viewing another user's property.
Taking over another user's property.
Playing dirty tricks.
Emailing another user.
Using the forums.
Using the Casino.
Current users online.
Tips and tricks
How to make money.
Viewing other peoples property and holdings.
Collaboration is the key.
Hotdog stands are top.
Spread some love, ohh and some fire.
Rule it and Roulette.